Kanefuku's Commitment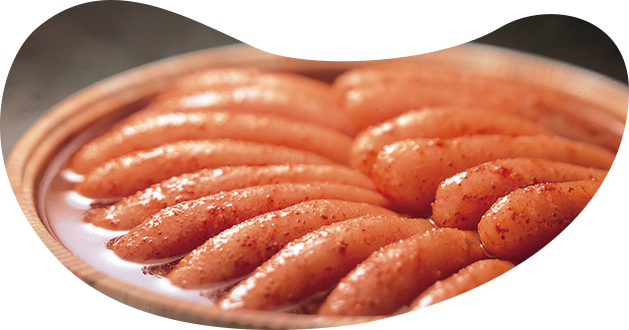 The taste of Kanefuku products is based on raw fish roe.
We devote ourselves to securing the best eggs.
Point

1.

Commitment to purchasing raw materials

There are many companies in Hakata that deliver Mentaiko.
Every company is trying hard to create their own original flavor, but at Kanefuku, we are
as passionate about purchasing our ingredients as we are about creating flavor. Most
Mentaiko sellers leave everything from the procurement of raw eggs to the brining to an
outside specialist company, and carry out the ripening process from that point on.
At Kanefuku, we manage everything ourselves, from procuring eggs from locally caught
Alaska pollock, to brining and processing into Mentaiko.
Even the most skilled chef cannot make delicious dishes unless they are fortunate
enough to have good ingredients.
The creation of flavor at Kanefuku is, first and foremost, based on the raw eggs. We devote ourselves to securing the best eggs.

Point

2.


An artisan's skill developed over many years, the best "granulatin gprocess"

There is another important process. It is "granulating", which means brining to give the Mentaiko
its granular texture. At Kanefuku, we do not leave this preparatory process to an outside company.
While checking the maturity, elasticity, gloss, and firmnesss of each and
every skein of raw eggs with our own eyes and hands, we wait for the salt to
mature the eggs, creating the very best "granularity".
We start from the preparation, using ingredients that we have selected and procured.
At Kanefuku, we believe that by handling everything like this, we can deliver the most satisfactory
Mentaiko.
Safe food production. At Kanefuku, we want to be at the forefront.
Although this is said to be the era of food culture, on the other hand, there have been revelations of
sloppy quality control and counterfeit labeling by major food manufacturers....
This alerted us to just how vulnerable the foundations are upon which we base the food safety we
speak about every day.
Since its founding, Kanefuku has managed everything from purchasing ingredients to
manufacturing, based on thorough quality control under the theme of "natural, healthy, safe". The
procurement of ingredients mentioned in the previous section ensures that we can also strictly
check for ourselves the hygienic condition of eggs.
Safe food production. At Kanefuku, we want to be at the forefront.
First of all, at a factory with stringent hygiene management, the eggs are selected, brined, pickled in matured seasoning sauce,
freeze matured, and drained. The completed Mentaiko undergoes a quality check at the quality control department in our
laboratory.
Products that pass taste tests, to check such things as the salt and water contents, and hygiene inspection by our lab technicians
are packaged and shipped.
1.
The step-by-step process of Karashi Mentaiko
1

Packing hygienically and carefully

2

Each skein of raw eggs is checked strictly and selected for size.

3

An original blend seasoning liquid is poured over slowly.

4

In the quality inspection, hygiene control is carried out very stringently.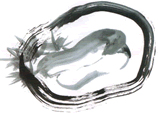 As a company responsible for handling the Hakata specialty Karashi Mentaiko, we will spare no effort as we
continue to ensure the safety and security of our food production.